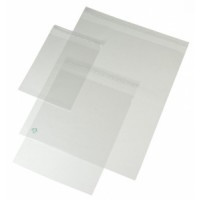 Mailing bags are PE bags with flap and closing strip for sending catalogs, printed matter, etc. The mailing bags are excellent to print with your advertising or promotional expression.
For mailings, internal mail, sending samples, documentation, technical sheets.

Numerous advantages: impenetrable, non-tearable and light.

Completely translucent.

Valve equipped with a self-adhesive closing strip.
Would you like to add a print to your mailing bags? Please contact us and we will help you as soon as possible.