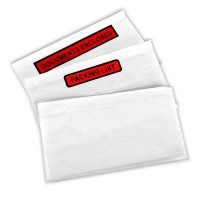 Packing list envelopes, also called document covers, protect documents (often bills of lading) against moisture and tearing. Our large assortment consists of blank or pre-printed packing list envelopes.
Completely waterproof and safe.

Hermetic envelopes of superior quality.

Solidly adhesive.

Neutral or with the indication "Documents enclosed" or "Packing list".

Ideally suited for sending consignment notes, invoices, etc.
Is your desired format not included or do you have a question? Please contact us and we will help you as soon as possible.