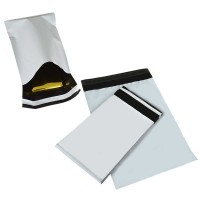 Strong and opaque bags that are often used for sending books, magazines and clothing.
The contents can not be seen from the outside.

Super strong and therefore not tear.

Available in 3 different sizes.

Equipped with a permanent closing strip.

All with a thickness of 70 microns.

From 25,000 pieces can also be printed.
Is your desired format not included or do you have a question? Please contact us and we will help you as soon as possible.